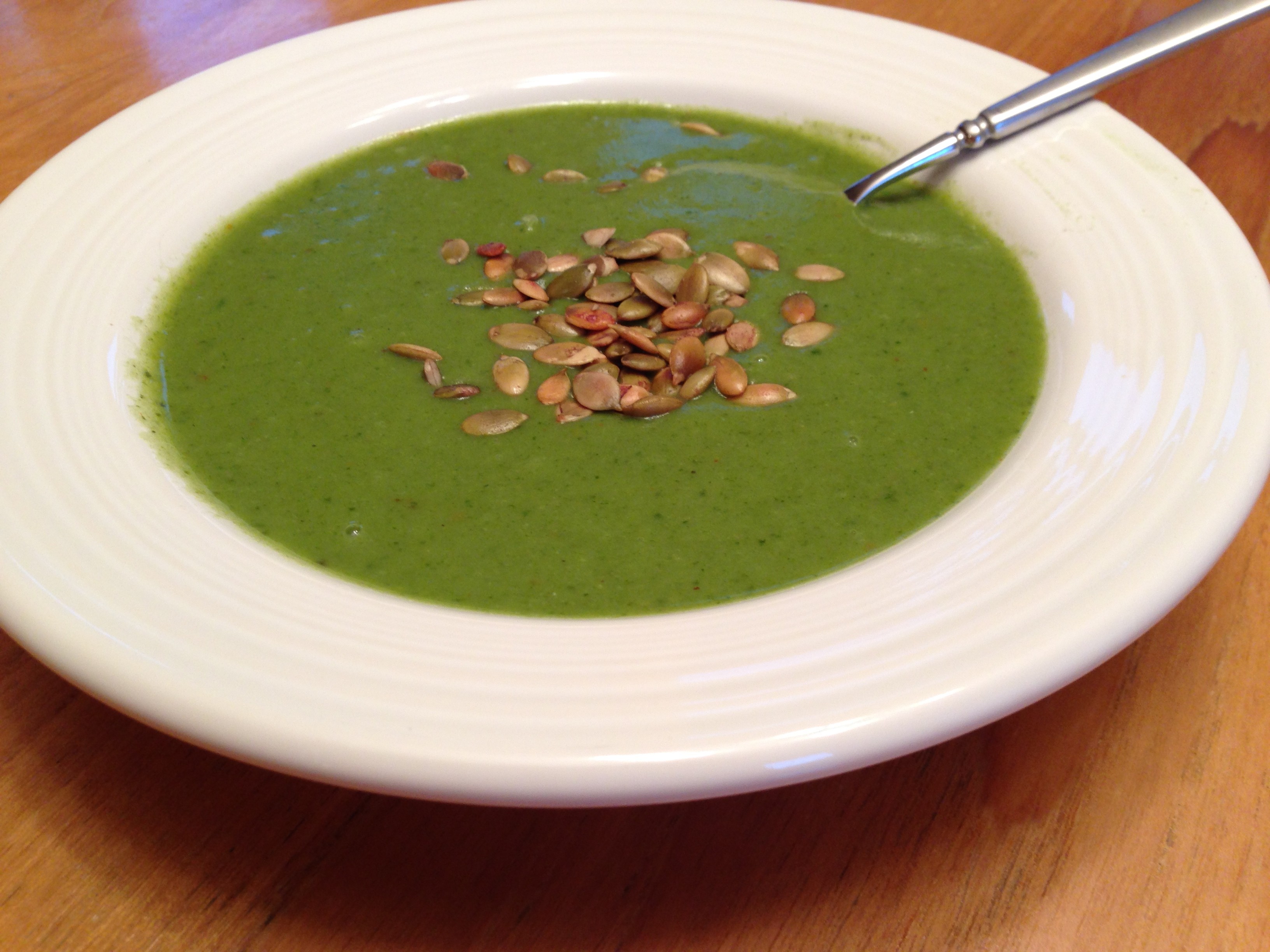 This is a great soup for a chilly fall night– and it's pretty quick to make, too. Plus it's green!
It's an update on a potato soup recipe–with some power greens and tasty spices!
Kale and spinach add some super green power to this soup (and if you don't like the taste, it doesn't come across very strong!) with some iron, vitamins A, B6, K, and calcium among other things.  Popeye knew what he was doing with that spinach!
Try using a yellow potato, or Yukon Gold variety, rather than a Russett potato.  Yellow potatoes have a slightly lower glycemic index, so will spike your blood sugar a little less. To get a little extra potassium, vitamin C, and fiber, you can also leave the skins (or part of the skins) on the potatoes.
I also like to use some pumpkin seeds as garnish for a little added crunch.  Pumpkin seeds are very high in the essential mineral zinc as well as magnesium and iron.  Plus any leftovers make a great snack!
Feel free to experiment with the spices- add more or less to your tastes.  The right spices and flavors are the key!  Give it a try- I promise it's delicious!
Ingredients
1 onion, chopped
2 T. olive oil
2-3 cloves of garlic, chopped
3 lbs. yellow potatoes
6-8 cups vegetable broth
4-6 cups kale (I usually just use the whole bunch)
4-6 cups baby spinach (or one whole container if pre-washed)
1 tsp. red pepper flakes
1 tsp. cumin (or more to taste)
1 tsp. garlic powder
1 tsp. garlic salt
1 tsp. chili powder
salt and pepper to taste
1 cup pumpkin seeds (optional)
1. Sautee onion in olive oil.  When almost translucent, add garlic. Let sautee 1 minute, remove from heat.
2. In large pot, add broth to onion mixture.  Chop potatoes into 1-inch chunks and add. Let this come to a boil, then simmer about 10 minutes.
3. Add ripped kale leaves, simmer 5 minutes.
4. Add spinach and spices, simmer 5 minutes.
5. Puree in blender (it might not all fit at once, so you can do it in batches)
6. Simmer just a bit more, until hot.
7. Roast pumpkin seeds on stovetop, until they start to get a little shiny from the oils released.  You can season with cumin and garlic salt if you want.
8. Enjoy a bowl of soup, with some pumpkin seeds on top!
xo