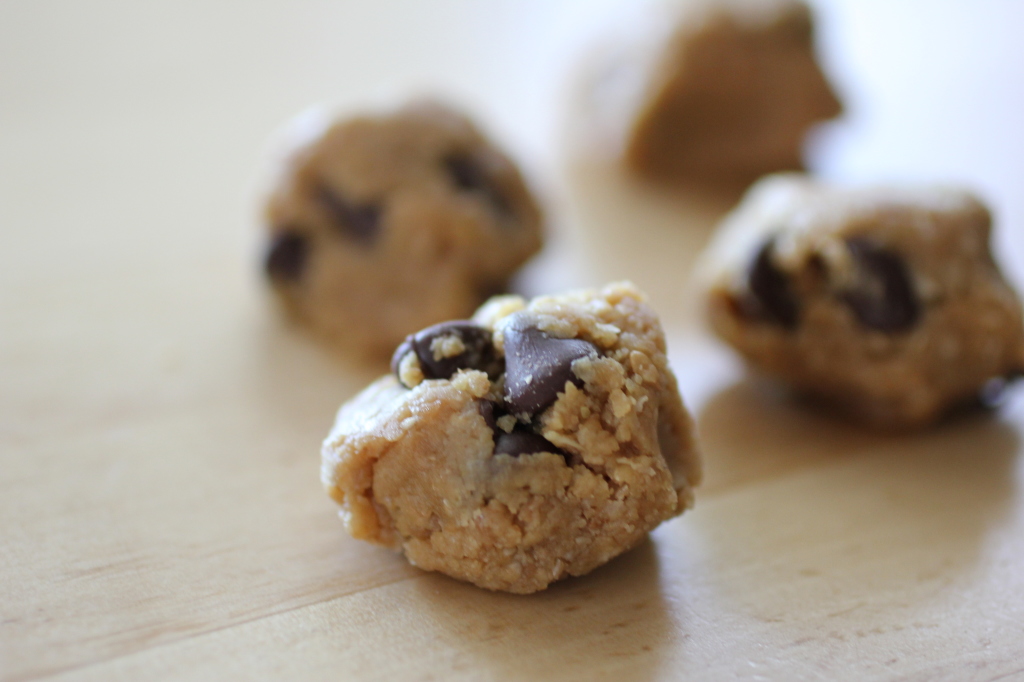 It's my birthday!
And I've got a treat for you! I made these peanut butter bites to bring to class this morning and they were a hit, so here is the recipe:
While I won't say these are healthy, they aren't terrible for you either.  They are lower in sugar than traditional cookies, and the flax adds some omega-3s.  Plus there is some good protein in the peanut butter, although the peanut butter and coconut oil do make them high-calorie (so don't eat them all in one sitting!)
I use ground oats because I like the slightly chunky texture of the oats, but you could experiment with different flours.  Be sure to grind your flax right before you use it–whole flax seed doesn't get digested by the body, and pre-ground flax becomes rancid very quickly.  I keep a small coffee grinder around for just such a purpose.
You could easily make these gluten-free by using gluten-free oats or substituting; and using vegan chocolate chips would make them vegan as well.
Ingredients:
1/2 c. peanut butter
1/4 c. coconut oil
1/3 c. pure maple syrup
1 T. vanilla
1/2 c. ground flax seed
1 1/2 c. ground oats/ oat flour
pinch of salt
3/4 c. chocolate chips
Mix everything in a bowl, then roll spoon-sized balls and place on parchment paper or storage container.
Best stored in the refrigerator and eaten in 1-2 days.
Enjoy!
xo Kate