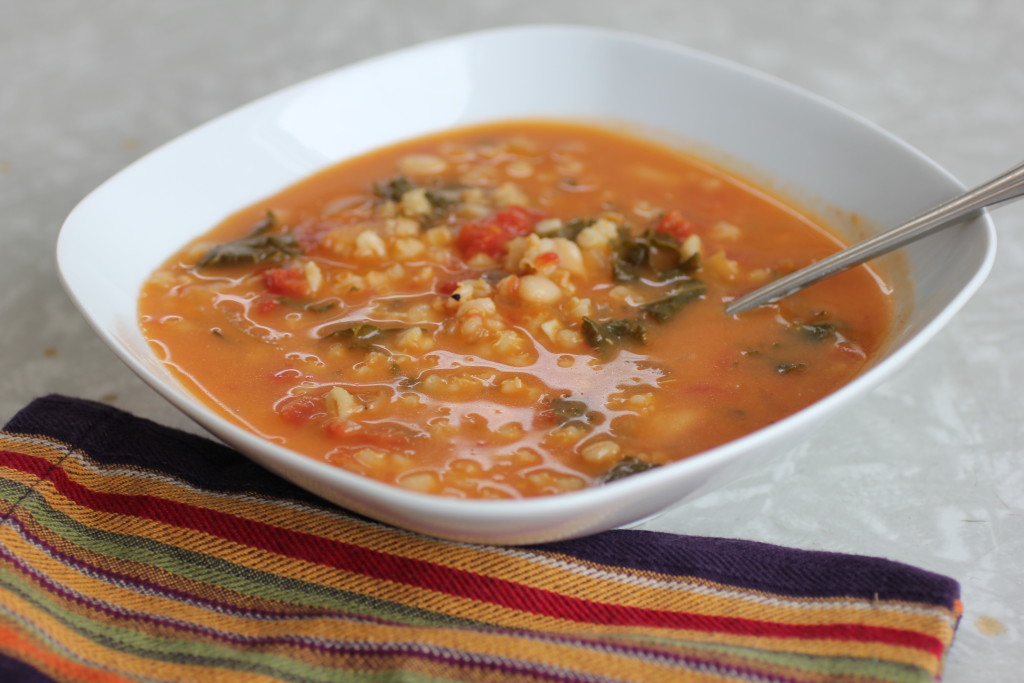 We have a snow day here in Colorado, so I am snuggled up inside making soup!
This hearty soup is perfect for cold nights.  Barley provides healthy fiber, and the beans are a good source of protein.  Kale adds some greenery and tons of good nutrients, plus a little cayenne will add a zip and some extra warmth.
Soup recipes often look intimidating because they have long ingredient lists.  A lot of those ingredients are just veggies and spices, however, and most soups are actually pretty simple: just chop up your ingredients, throw them in a pot and let it cook! This soup is no exception–hands on time is only about 20 minutes.
So cook up a big pot of this soup and stay warm and cozy inside!
(Adapted from Real Simple)
Ingredients:
1 large onion
4 cloves garlic
4 cups vegetable broth (low sodium)
4 cups water
1 28-oz can tomatoes
1/2 tsp. garlic salt
1/2 tsp. garlic powder
1/2 tsp. cayenne (or more to taste)
1/2 tsp. chili powder
1 tsp. cumin
1 cup pearled barley
1 bunch kale
1 15-oz can white beans (I use great northern beans)
Salt + pepper
(optional) grated parmesan for serving
How to:
1. Chop onion and saute in pan with olive oil until tender and translucent.
2. When onion is just about done, add chopped garlic, cook until fragrant.
3. Add onion and garlic to pot with tomatoes, broth, water, and spices.  Bring to a boil. (Note: If tomatoes are whole, use a masher to mash them up a bit, or buy crushed tomatoes)
4. Add barley, simmer 30-40 minutes or so, until tender.
5. Add kale and beans, cook until kale is wilted, about 5 minutes.
6. Season with salt and pepper. (Optional: serve with a sprinkling of freshly grated parmesan)
Enjoy!
GET MORE ADVICE + INSPIRATION!