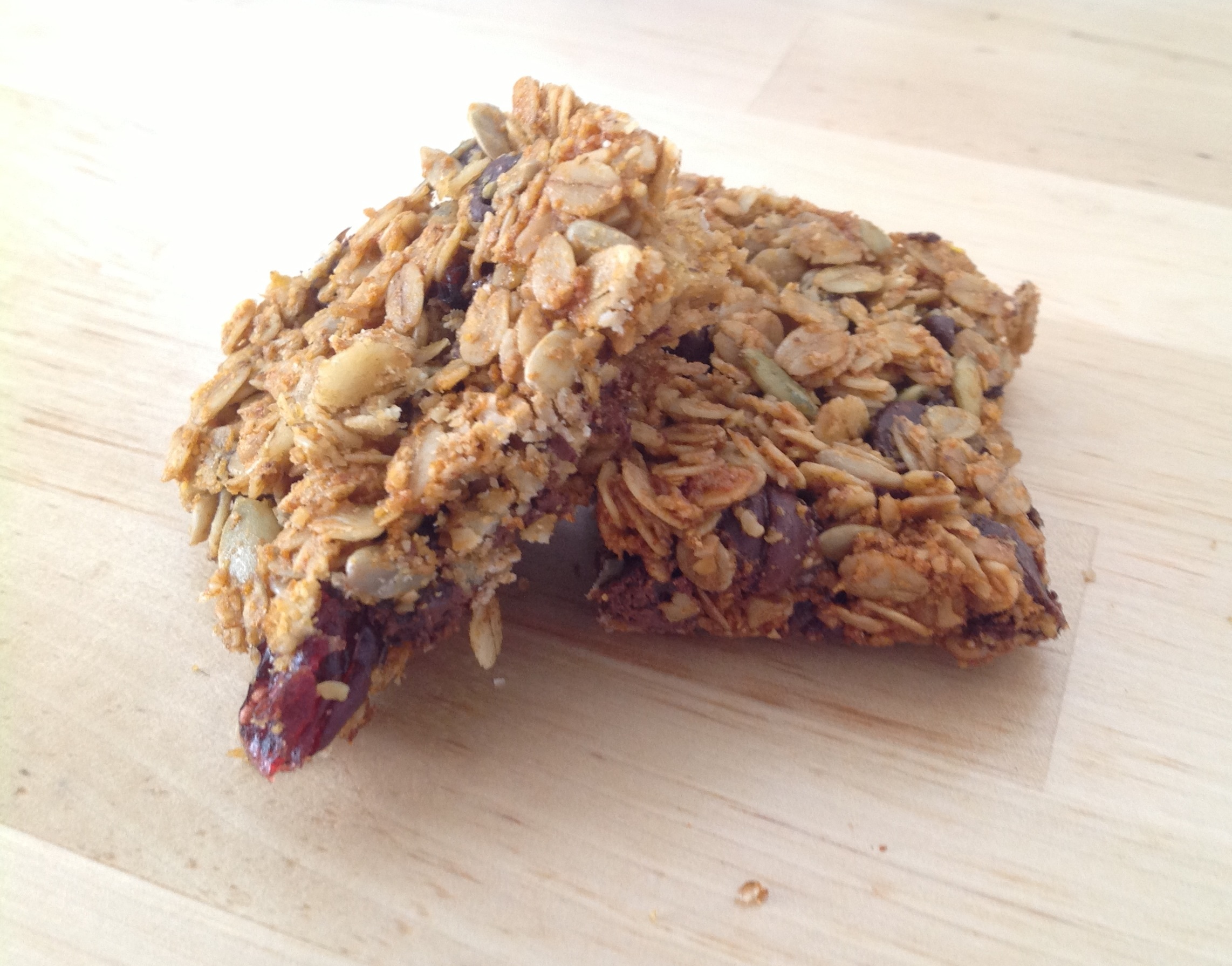 We all eat them.  They are the ubiquitous quick snack.  But what exactly are you eating when you chow down on that granola bar?
Probably a lot of sugar for starters.  Many store-bought brands pile on sugar to make their bars super tasty– almost like dessert.  All this sugar can make them pretty high-glycemic, meaning they spike your blood sugar and insulin levels.  Plus, most of these bars don't have redeeming qualities in their other ingredients– they are just lacking in the nutrients that your body needs.
By making your own granola bars, you can ramp up those goodies (nutrients) and still have a tasty snack!
This granola bar recipe uses honey and maple syrup as sweeteners, keeping them low glycemic. Adding lots of seeds also makes these granola bars protein rich.
I like to add pumpkin seeds which are also a good source of potassium, iron and zinc, sunflower seeds with their selenium and vitamin E, and sesame seeds which have calcium and magnesium.  You can get creative though, and add any seeds that sound yummy to you!
I also add some ground flax (make sure to grind right before using to get the most benefit), which contain lots of heart healthy omega-3's.  Plus all those oats are a great source of fiber!  You can add dried fruits of your choice, or even some chocolate chips for a sweet treat.
These will taste so much better than any store-bought granola bar that you'll want to make them all the time!
Ingredients
4 c. whole oats
1/2 c. oat flour (or you can put oats in the food processor for a few seconds)
1/2 c. ground flax (make sure to grind right before using)
1 tsp. baking soda
1 tsp. vanilla
2/3 c. butter or oil (I usually use sunflower oil, or coconut oil)
1/3 c. honey
1/3 c. maple syrup
1/4 c. applesauce
1/3 c. almond butter or peanut butter (optional)
some cinnamon or other spices (optional)
2 c. extras- nuts, seeds, raisins, craisins, other dried fruit, choc chips (here I used pumpkin and sunflower seeds, craisins, and chocolate chips)
1. Preheat oven to 325 degrees.
2. Combine all ingredients in a large bowl.
3. Press firmly into 9×13 pan and bake for 20-25 minutes or until golden brown.
4. Let cool 10 minutes and then cut into bars.  Leave in pan until completely cool.
Enjoy!
xo