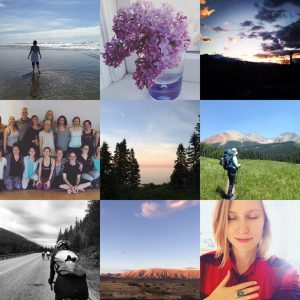 The final day of 2016 is upon us.  It was definitely a tumultuous year and full of change for many of us.  For me, 2016 included letting go of some things, making some big leaps, and opening up space for the new in 2017.
Despite the many ups and downs, I always like to end the year with a little gratitude–for all the positive things that did happen this year.
So here's my year-end summary of 2016:
I started my advanced yoga teacher training with the Colorado School of Yoga.  I spent every other weekend in Boulder from January through May, but I learned a lot about myself, and I met a community of wonderful + supportive yogis that I am lucky to call my yoga family.
In April I took a birthday trip to Sonoma, CA for the big 3-0. Most of my travel involves visiting family, so taking more than just a couple days in the mountains for just the two of us felt very luxurious.  Plus there was lots of good wine and delicious food.  A good start to a new decade!
Took a week off the grid over the summer to unplug and enjoy the beauty of Colorado.  Spent time backpacking in the mountains and recharging my spiritual batteries.
In August I was honored to witness Thomas M.'s entry into the world. It was beautiful, miraculous, and exhausting.  It was an honor to support my friend and have the opportunity to experience the wonder of birth. And Tommy is now officially my favorite baby.
We bought our first house! Talk about major changes. Scary and stressful, but sooooo exciting! It needs some updating, so move-in is pending in early 2017, but this was another big milestone for me this year!
What are your milestones from 2016? Share your achievements and successes in the comments below!
READY TO SAY HELLO TO 2017?

Download my free 2017 Goal Mapping Guide and decide what you want the new year to look like AND how to actually accomplish those goals! Take time to reflect on the past year, dream about the coming year, and make plans to shine in 2017!