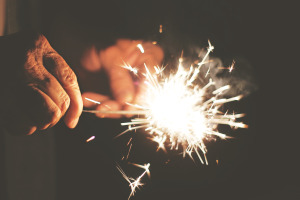 As we wind down 2014, it's nice to use this symbolic ending and new beginning to do some reflection. It's a luxury we don't often afford ourselves in this fast-paced world, but taking time to reflect and think ahead can help us reconnect with ourselves and with our goals, dreams and desires.
I've been doing this on New Years Eve for a couple years now and absolutely love it. I encourage you to do this with a partner, roommate, or family or by yourself. Make it an event: after dinner, grab a glass of wine, light some candles and create a cozy atmosphere. Find a journal that you can use for this purpose each year (or if you have a special journal you use throughout the year, that works, too).
Start by reflecting on what went well this year. List out any accomplishments, fun trips, or milestones that occurred. Nothing is too small for this list. I usually discover that I've accomplished way more than I think I have once I get started. Plus, it feels good to appreciate all you've done!
Next I like to list out my goals for the coming year—basically things I want to put down on my accomplishment list a year from now. They can be career goals, fitness goals, travel goals, whatever you hope to achieve in the coming year. I find that writing this down helps me feel really clear about where I want to go. Sometimes we get caught up in the day-to-day and lose sight of a greater sense of direction. Starting out the new year with a clearer sense of purpose can feel really refreshing.
So do a little reflecting today. Take some quiet time by yourself before you head to your New Years Eve party or if you are hosting a small gathering of friends, encourage your guests to share their accomplishments and goals aloud.
Here's to all that 2014 had to offer and wishing you all the best in the year to come!
(P.S. I've got lots of plans for 2015, so be sure to stay in touch!)
Plus, here's what I'm bringing to my New Years Eve party tonight:
Caprese On a Stick
Ingredients:
20 cherry or grape tomatoes
20 balls or small pieces of mozzarella
20 basil leaves
balsamic and olive oil for drizzling
salt and pepper
20 toothpicks
Assemble one tomato, one piece of mozzarella and one basil leaf per toothpick. When all are assembled, drizzle with some tasty aged balsamic and olive oil and add a dash of salt and pepper to taste. Enjoy!